Rising number of graduates unable to find work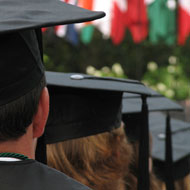 RCVS releases findings from its survey of the professions

A rising percentage of newly qualified veterinary surgeons are unable to find employment after graduation, according to the results of the latest RCVS Surveys of the Veterinary and Veterinary Nursing Professions 2014.

The four-yearly survey carried out by the Institute for Employment Studies found that while more than half of recently qualified veterinary surgeons went straight into work in practice, 17.8 per cent were unable to find work, compared to 13.6 per cent in the last survey.

The survey provides a snapshot of the current state of the professions, covering work status, well-being and job satisfaction. This year, 6,988 veterinary surgeons (27 per cent of the profession), 3,612 registered/listed veterinary nurses (31 per cent of the profession) and 1,792 student veterinary nurses.

Questions this year also covered 24-hour emergency care and the social background of members of the profession.

Key findings for vets:
For the first time, more than half (53.8 per cent) of respondents were women, fitting in with the "feminisation" of the profession.
Nearly 90 per cent of veterinary surgeons said their work is stressful, but more than 80 per cent said it gives them job satisfaction.
Issues highlighted by respondents include: high demands put on them by clients and the need for better pay and remuneration.
The share of respondents working part time rose to 19 per cent, with female veterinary surgeons accounting for 73.2 per cent of those in part-time work.
The percentage of respondents in small animal/exotic practices has risen from 48.9 per cent to 53.6 per cent since 2010, while the percentage employed in mixed animal practices dropped from 22.1 per cent to 15.8 per cent.
Key findings for veterinary nurses
There was a drop in veterinary nurses working full time - 67 per cent compared to 74.7 per cent in 2010.
Veterinary nurses were generally more positive this year compared to the previous survey - 60 per cent said they would choose to become a veterinary nurse again if given the chance to start their career again (compared to 54 per cent in 2010).
Issues highlighted were stress and poor pay.
Fewer student veterinary nurses said they would stay at their training practice after qualification (52 per cent compared to 61 per cent in 2010).
There was a shift from employer-funded CPD to free CPD - in 2010, 57 per cent of CPD was funded by employers, whereas 41 per cent of CPD this year was free.

For the findings in full, visit the RCVS website: http://www.rcvs.org.uk/publications/