Wildcats extinct "within months"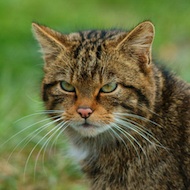 Research suggests fewer than 35 pure-breeds left
The Scottish Wildcat Association (SWA) have warned that pure-bred wildcats could be extinct within months, as numbers may have fallen to as low as 35.
Following the review of records, the Association have suggested that there are far fewer than previously thought. The records reviewed include camera trap sightings, eyewitness reports and road kills.
Of the 2,000 records, less than 20 had accepted coat-markings of the true wildcat. The others were of hybrids - wildcats inter-bred with domestic and ferrel cats.
It is thought that inter-breeding and disease are two of the main threats to the pure-breeds, so SWA would like to relocate pure wildcats to an area of fewer risks. It is also calling for licensed trapping to collect blood samples for better understanding of the state of the population.
Previous other research has suggested that there could be fewer than 400 pure-bred wildcats, though there is an estimated 3,500 hybrid wildcats cats in Scotland.
"However you juggle the figures it's hard to find anything positive," said Steve Piper, SWA chairman. "The overwhelming evidence is that the wildcat is going to be extinct within months, anything else is blind hope."