Charity to teach 'sexing' of guinea pigs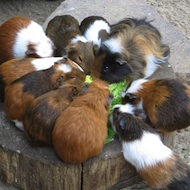 Wood Green to help pet shop workers
Wood Green, The Animals Charity, has decided to teach pet shop workers how to determine the gender of guinea pigs, following an influx of the pets to their shelters.

Wood Green, based in Cambridgeshire, said it was "full to capacity" after a couple brought in 45 guinea pigs, produced by their "same sex" pets in an eight month period.

A spokesperson commented: "Unneutered males are active from just three weeks and the mums can become pregnant again with an hour of giving birth. We are working with pet shops across the country to help teach staff how to sex guinea pigs so new owners don't end up with unexpected litters."