Elephant artist raises money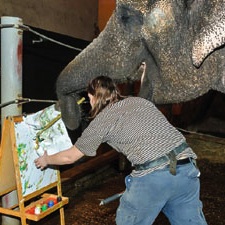 Shanti pays for new enclosure
An Indian elephant named Shanti from Prague Zoo, Czech Republic, has taken the art market by storm.

Shanti is able to paint with her trunk, and her works can earn up to £1,500 each, with profits being put towards a new 1,400 square metre enclosure for her and her herd. She began painting two years ago as part of an experiment into elephant intelligence, but has also starred in movies and worked as a circus performer.

Zoo director Pavel Bobek commented: "Each painting takes her about 20 minutes and luckily she doesn't tire of doing them because there is always a snack at the end of one and she's always hungry."

"She destroyed quite a lot of easels and canvases in the early days but she now has a very light touch," said her keeper Veronika Struplova.