SA businessman gets guard...tiger?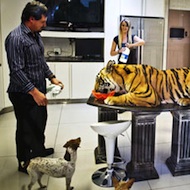 330lb cat to scare off intruders
A South African businessman has acquired a 330lb Bengal tiger named Enzo after being targeted twice by armed robbers. Michael Jamison and his girlfriend Jackie live with the tiger and their three dogs in their home in Brakpan on the outskirts of Johannesburg. Commenting, Mr Jamison noted that "I feel much safer with Enzo in the house than without him."

One year-old Enzo is bottle-fed twice daily and also consumes approximately 4kg of meat. He has a cat box, eats on the kitchen counter and sleeps in Mr Jamison's bed. It is also understood that Enzo and the couple's three dogs, who are apparently on good terms, often eat rice and chicken or mince together.

There was some initial concern for the tiger's welfare, and both police and officials of the Department of Nature Conservation have been to inspect the property. However, nothing was found to be contrary to Enzo's welfare and he was permitted to stay.