Ex-BVA President criticises non-stun slaughter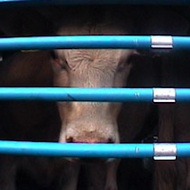 Professor Bill Reilly calls current situation 'unacceptable'
Professor Bill Reilly, formerly President of the British Veterinary Association (BVA), has criticised the rise in the number of animals slaughtered without prior stunning. UK and EU legislation does allow a derogation in the requirement to stun animals prior to slaughter in accordance with religious requirements for kosher or halal meat, but Prof Reilly argues that supply is not proportionate to demand on religious grounds alone and argues that such a state of affairs is "a serious abuse of the non-stun derogation".

Writing in the Veterinary Record (Vol 170/No 18, May 5th 2012), Prof Reilly notes "the convenience of not operating a separate Halal processing line" to an abattoir and states that "In my view, the current situation is not acceptable and, if we cannot eliminate non-stunning, we need to keep it to the minimum. This means restricting the use of halal and kosher meat to those communities that require it for their religious beliefs and, where possible, convincing them of the acceptability of the stunned alternatives."

Prof Reilly's calls for reforms have prompted responses from the Jewish and Muslim communities. Commenting, Shimon Cohen of Shechita UK stated that "The fact is there is no conclusive scientific evidence to support his arguments at all...If he is truly concerned about animal welfare, his time would be better spent campaigning against the so called 'humane' methods of mechanical stunning including captive bolt shooting, gassing, electrocution, drowning and clubbing, not to mention the many millions of animals who are 'mis-stunned' every year."