Last chance to get best rates for SPVS Congress 2012!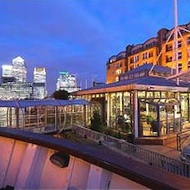 May event drawing closer
The Society of Practicing Veterinary Surgeons (SPVS) Olympic Congress is drawing closer, and the window of opportunity to take advantage of the best rates is almost closed. Anyone hoping to take advantage of these rates has until Friday 17th February 2012 to book. The Congress itself will be held at the Hilton in London Docklands Riverside from Thursday May 17th to Sunday May 20th 2012, and promises a broad array of features to suit all delegates, including:
High profile speakers.

New stream for future practice owners (start-up / purchase / partnership / JVP).

New stream for delegates' support-staff and VNs.

Special day-time programme includes River-Roamer tickets, guided walks of Greenwich and "Manhattan on Thames", Gordon Ramsey lunch or visit the central attractions - optional London Eye / RIB tickets etc.

Help with child-care arrangements.

Superb London location.

Networking opportunities with vets / managers like you and some of the leading veterinary support companies.

Bateaux London Dinner Cruise, Gala Dinner-Dance, play golf, see the Olympic Park. Social programme subsidised by our generous sponsors.

Low registration fee: Full Registration only £299 + VAT (£299 including VAT for future owners stream).

Exceptionally good value accommodation at the Hilton from £119 + VAT (only £10 extra for partners, sharing).

Budget accommodation available nearby (e.g. YHA Thameside)

Or you can come just for the CPD as a day delegate.

More information is available at the SPVS website.